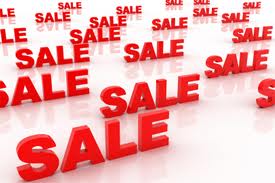 Who doesn't love a sale? The thrill of the hunt, discovering the item that you were lusting after all season finally marked down. Sale shopping takes patience, imagination, and some skill to find good deals! Below is a list of tips on how to become savvy sale shopper.
1. Be prepared to look through racks that are a mess, with clothes hanging off the hangers and even the floor. In other words, the items are not going to be organized. As a result if you are a size medium most likely will have to look on racks that have extra-small or large items on them. Unfortunately, this is part of the hunt.
2. The saying, "don't judge a book by its cover", can also be applied for a sale. Don't judge the shirt by the sales rack! When you put it on, it might look amazing. You also need to be prepared for the realization that the gorgeous Marc Jacobs skirt that you have been eying all season might not look so great on you. Don't buy something just because it is on sale or is made by a particular designer. NO MATTER the deal! You are still spending money and it will only sit in your closet if doesn't look good on you.
3. It is always a good idea to look through your closet and take inventory of what you need before scouring a sale. Many basic pieces are on sale at the end of the season that you might not typically think about buying on sale.
4. Learn how to shop sales at different stores. Each store has a system. For instance Bloomingdales hard -marks sales items and on select weekends will take 30% – 50% off the hard-mark price for a killer deal! Anthropology and the Gap do markdowns on Tuesdays. Neiman Marcus has the Last Call at the end of each season. Once you know when the store marks their items down you will never pay full price!
With these tips and the determination to find a good deal, you too can become a savvy sale shopper.