One of of the hardest things and most dreaded items to shop for are bras! However it is the most important thing you put on in the morning! It doesn't matter how well your clothes fit you, if your foundation piece doesn't fit you well, the rest of your outfit won't either.
I always suggest that my clients go and get fit by bra-fit specialist. They are trained to make sure that your bra fits you correctly. You are supposed to do this every six months, due to your body changing. I was a bra-fit specialist for a few years, and I know how challenging this can be. However it is worth it in the end! Below are some things you should look for when getting sized for your foundations.
1. Make sure that the center of the bra, or the gore is not moving around.
2. The straps should not slide off your shoulder, and they should not be too tight. The straps should fit comfortably and not leave marks.
3. The back strap should lay straight across you back and not ride up. You should be on the last hook, so you can move in the hook as the band starts to get stretched out.
4. Make sure you are not spilling out of the cup, but at the same time you should fill it out.
5. You should also not be spilling out the sides.
6. Always try on a shirt over the bra to make sure you like the shape that the foundation piece has created.
Below are some of my favorite foundation pieces which can be found at major department stores and some specialty stores.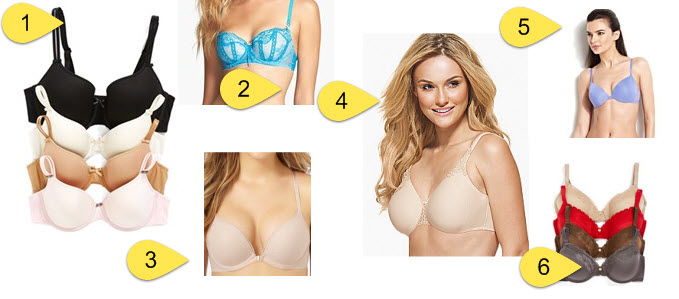 1.Chantelle Intimates 'Basic Invisible' Memory Foam T-Shirt Bra, $69 perfect if you are C-DD Cup and not super full
2.Elle Macpherson Intimates 'French Flavour' Underwire Balconette Bra, $62, Perfect if you are C-DD Cup and not super full
3.OnGossamerCrochet Chic Racerback Bump Bra, $42, Perfect for A-C Cup
4.Wacoal Body Suede Ultra Full Figure Seamless, $60 Minimizer, Perfect for D-G Cup
5.Calvin Klein Modern T-shirt $42 – Ideal for A-C Cup
6.Natori Hidden Glamour $68 – Perfect for C-G Cup