It is time to start looking for the perfect pair of white denim. I think this can be as hard as finding a swimsuit! I tried a lot of pairs of denim on, so you didn't have to.
I had my heart set on a pair of distressed denim, but I didn't have much luck. I first tried on a pair of Rag and Bone Mid Rise Capri Jeans. These ran really small and I had to go up a few sizes. I didn't love the way they fit me, they were cut for a much taller person.
Next I tried on the JBrand Low Rise Ankle Skinny Jean. I had luck with the JBrand distressed denim in the past so I was hopeful. However, this pair didn't quite cut it. My tush looked really flat in them. If you are petite, I suggest trying them becasue they will hit you in all the right spots and you will not have to get them shortened.
I am always a fan of AG. I tried on the Stilt, and I liked these, they ft very similiar to the denim version that I have.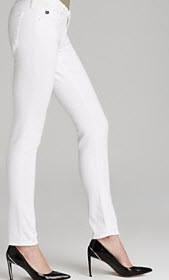 The pair that I decided on were the Paige Skyline Crop. They fit me everywhere, were true to size, and an added bonus was that I didn't have to get them shortened.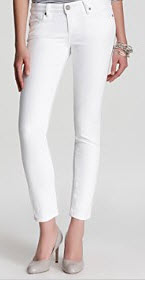 Good Luck with your search for the perfect pair of white denim! Let me know what you find!